Well Cameras, Pump Pullers, and Poly Pipe Reels
Well Camera System - R-Cam 1000 Portable
The R-CAM 1000 is a portable dual-view, well camera system with automated control for either downhole or side-view video profile. Side-view lens includes 360 degree rotation to right and left with no external moving parts. This camera has effective survey capabilities for 3-inch to 12-inch well diameters.
The R-CAM 1000 well camera system comes equipped with a protective case provided for storage, lighting system, camera control unit, cable, video monitor, centering bands, DVD recorder, power supply and transport cart for easy maneuvering.
Camera Technical Specifications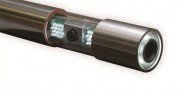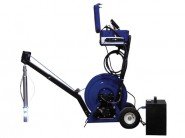 Diameter: 2.0 inches O.D.
Overall Length: 20.0 inches
Housing: Stainless steel
Cable: 1,000 feet Kevlar Rienforced, small diameter coaxial cable. Single conductor electronic technology
Lens: BK-7 glass
Power Supply: Portable 12VDC battery pack and charger
Total Camera Weight: 18 lbs
Pressure Rating: Pressure tested and waterproof to 500 PSI
Scanning System: Downhole greater than or equal to 330 TVL, side view greater than or equal to 460 TVL(both NTSC and PAL)
Operating Temperature: 0° to 50°C (32° to 122° F
Recorder: Records onto a 12 VDC DVDR
LED Lighting: High intensity, long life, shock proof LED lighting, side view and forward view
Depth Counter: On-screen depth display measured in feet and tenths, or meters
Monitor: 7 inch LCD colour monitor with sunscreen viewing hood
Winch, Reel, Motor, and Cart: 12VDC electric powered, variable speed reel for raising and lowering camera in well. All parts are mounted on a small, two-wheeled cart with extendable 36 inch boom
Uses and Applications
New Construction Inspection - Display the Quality of Work and Offer Customer
Period Inspection - Determine Existing Well Conditions and Perform Preventative Maintenance
After Service Inspection - Verify Cleaning, Repairs, Track Well Conditions, and Compliance
Pre-Purchase Inspection - Pre-Purchase Inspection
Ground Water Monitoring - Determine Quality, Mineral Conditions, Geological Strata, etc.
Recover Lost Tools - Locate and Retrieve Lost Tools
POLY PIPE REELER - Pump Puller & Pump Testing Unit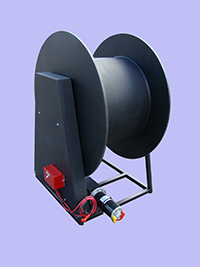 The Poly Pipe Reel is a must for anyone who has to work with pumps set on poly pipe. The Poly Pipe Reeler is faster than most other pump pulling devices, weighs a lot less than similar steel pipe reels, and is the only sanitary way to pull a pump because it stores the pipe as it pulls it ridding the need to lay the pipe on the ground. The Poly Pipe Reeler can also help prevent down time and back injuries from pulling the heavy pump and pipe from the well by hand.
The Poly-Pipe Reel comes in two standard sizes, a 16" wide drum and a 24" wide drum. The reel can be powered by 12VDC (standard), 110AC, 220AC or hydraulically driven. Regardless of the power source the Poly Pipe Reel has the ability to pull 1200 lbs. at a speed of 40-45 ft/min.
The Poly Pipe Reel weighs approximately 350 lbs. depending upon size and additional options, the reels drum and chain guard are constructed of a special polyethylene that is fused together creating a product that is as strong as steel without the need to worry about paint, rust or denting. The drum is mounted on a tubular steel frame. One person can now do the job of three, in half of the time!