Heating and Cooling Equipment HVAC Pumps
Ability Pump & Equipment stocks Grundfos circulator pumps for air conditioning, heating, and ventilation (HVAC)
Large Circulator Pumps: VersaFlo UP(S)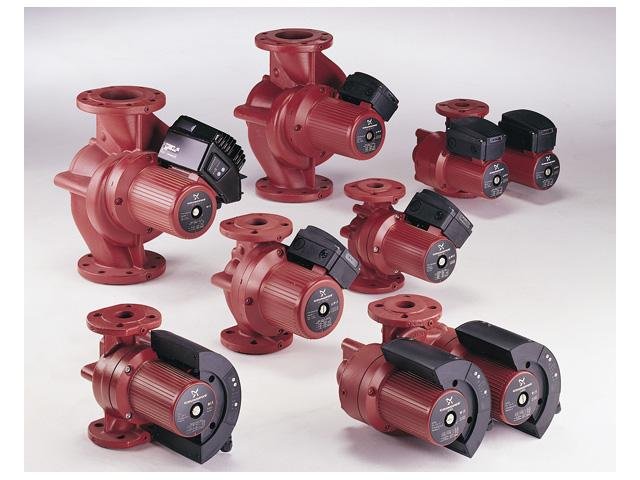 Grundfos VersaFlo UP(S) pumps are large 3-speed wet rotor circulators. They feature an integrated pump and motor design ensuring greater ease of installation and durability. Maintenance free and whisper-quiet, these pumps are ideal for a variety of commercial heating and cooling systems.
The VersaFlo UP(S) features dynamically balanced rotors and laser-welded, stainless steel, curved blade impellers. A speed switch on the motor allows the pump to be adjusted to the needs of the application, improving pump efficiency and reducing energy consumption.
Available in a variety of materials and sizes, the Grundfos VersaFlo UP(S) is the ideal choice for heating systems, hot-water systems, and cooling systems.
Grundfos Pumps are:
Maintenance free
Whisper quiet operation
Balanced rotor and curved blade impellers increase operating efficiency
Unique wet rotor design
Adjustable 3-speed capabilities
Available in a range of sizes and materials
Corrosion-resistant and built to last
User-friendly indicator box
Small Variable Speed Circulator Pump: ALPHA
The ALPHA variable speed circulator pump will automatically analyse the heating system, find the optimum setting and continue to adjust its operation to changes in demand. The pump is compact in design, with the control box well integrated into the pump head. Simply install the pump and leave it on the factory setting, AUTOADAPT, which is suitable for most applications.
The Grundfos ALPHA is designed for circulating liquids in light commercial heating systems. Pumps with stainless steel pump housings can also be used in domestic hot-water systems.
The Grundfos ALPHA is suitable for systems with constant or varying flows where it is desirable to optimise the pump duty point, systems with varying flow-pipe temperatures, and systems where night setback is required.
The Grundfos ALPHA circulator pump features:
Integrated differential pressure control (proportional and constant pressure control)
Display showing actual power consumption (P1) in Watts
Low noise
High starting torque
Automatic night setback
Motor based on permanent-magnet/compact-stator technology
Integrated frequency converter
Self-venting pump housing.
Large Variable Speed Circulator Pump: MAGNA Series
The Grundfos MAGNA is an energy efficient, variable-speed wet rotor circulator pump. By utilizing a permanent-magnet rotor the MAGNA delivers a powerful performance with minimal noise and reduces power consumption by as much as 50%
The MAGNA also features AUTOADAPT - a function unique to Grundfos - which analyses your heating system, learns what works best for your application and changes the settings accordingly. AUTOADAPT regularly adjusts the proportion pressure and automatically sets a more efficient performance curve wherever possible, ensuring system efficiency and saving energy.
It's easy to install, simple to operate, and an excellent choice for replacement applications. With these features and more, MAGNA is the smart choice for optimized pump efficiency. Flow rates vary from 0 to 52 GPM.
The MAGNA pump is suitable for heating system applications featuring main loop, mixing loops, and heating surface systems. It is frequently used in large buildings like apartment buildings, universities, airports, hospitals, and government buildings.