Submersible Pumps from Grundfos, Franklin and Schaefer
Ability Pump & Equipment stocks submersible pumps and motors from suppliers like Grundfos, Franklin and Schaefer, for a variety of applications:
Domestic Water Supply
Small Irrigations Systems
Irrigation and Agriculture
Pressure Boosting
Municipal Applications
Commercial Applications
Filtered Effluent Pumping
Aeration
Ornamental Waterfalls & Fountains
Grundfos SQ/SQE 3" Submersible Pumps
Grundfos SQ/SQE 3" submersible pumps offer a wide performance range, making it easy to find a model that will suit your individual requirements.The SQ/SQE is a compact, 3" multistage centrifugal pump that can be installed in a borehole no larger than the pump itself. With their built-in electronics, SQ/SQE pumps are very easy to install and operate. They guarantee a reliable water supply at all times.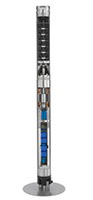 Equipped with permanent magnet motors, these flexible and compact pumps offer excellent efficiency levels and will supply pump heads up to 650 ft. If the SQE pump is connected to the Grundfos CU 301 control box, it enables the creation of a constant pressure water supply.
Applications
SQ/SQE pumps are suitable for both continuous and intermittent operation for a variety of applications:
Domestic water supply
Small irrigation systems
Features and Benefits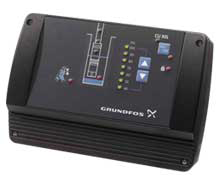 Dry-running protection
Permanent magnet motor with high efficiency
Wear resistance from floating impellers
Protection against upthrust
High flow velocity
Soft-starts reduce wear on motor
Over- and under-voltage protection
Overload protection
Over-temperature protection
Additional Features of the SQE
Variable motor speed controls (with connection to the CU 301)
Connection to the CU 301 for two-way communication
Grundfos 4"-10" SP Stainless Steel Submersible Pumps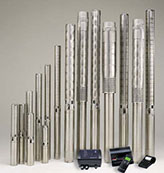 Grundfos SP submersible pumps are renowned for their high efficiency and reliability throughout the range. Made entirely of corrosion-resistant stainless steel, SP pumps are ideal for a wide variety of applications. They represent state-of-the-art hydraulic design. Built to deliver optimum efficiency during periods of high demand, the SP pumps provide low long-term costs and high operating reliability regardless of the application.
The Grundfos SP range offers high efficiency, high resistance to sand and other abrasives and easy maintenance. A complete monitoring and control system is available for constant optimization of the pumping system.
Schaefer Pumps
3200 Series
The 3200 Series submersible pumps are designed so that all parts of the pump end, including the cable guard, fall within the diameter of the submersible 4" motor. This reduced diameter pump end makes it ideal for installations where the well is considered encrusted or tight in comparison to a standard 4" well. The 3200 Series also offers a hydraulic stage design optimized for greater water and pressure output when installed at deeper well depths. Pumps come standard in the 5 gpm and 7 gpm Schaefer Pumps.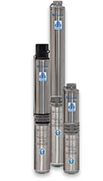 Schaefer Tri-Seal 4" Pump
Franklin Electric's Schaefer brand offers Tri-Seal, high capacity, environmental, boosting and centrifugal pumps. Schaefer submersible pumps feature unique hydraulics that improve efficiency and minimize wear even when pumping abrasives. This new stage system improves efficiency and protects against wear when pumping abrasives (sand). Discharge and motor brackets are available in thermoplastic or stainless steel with a removable check valve system. Ideal for residential, commercial, agricultural, municipal and industrial applications and equipped with the power, performance and reliability you expect from Franklin Electric.
Franklin FPS High Capacity 4", 6" and 8"
Franklin Electric manufactures a full line of 4"-8" submersible pumps and 6"-8" submersible turbines for all of your pumping needs. This complete line of pumps are ideal for farm, home, irrigation, industry, municipal and commercial applications. They are equipped with the power, performance and reliability you expect from Franklin Electric.