Ritchie Industries Automatic Watering Troughs for Cattle, Horses, Goats and Hogs
Ritchie Industries livestock and horse waterers are the best in the business. From a single horse Stall Fount to fountains that accommodate 500 cattle, Ritchie fountains have set the standard in quality. When you buy a Ritchie fountain, you know you're getting the most dependable product on the market... not to mention the best value, service and warranty in the business. Whether it's the energy efficient Thrifty King for large herds of beef, the Eco Fount for smaller herds or the best on the market Omni Founts designed to water beef, dairy, goats or horses. Well known horse waterer standbys like the stainless Stall Founts make your horse's care easier and Pork Kings provide water for those large hog herds. Omni Founts, CattleMaster, Cattle Fountains and AC Series that combine Polyethylene casings with 304 stainless troughs for the best of both. Hydrants, Thermal Tubes, Optional Heaters and other accessories round out what you need.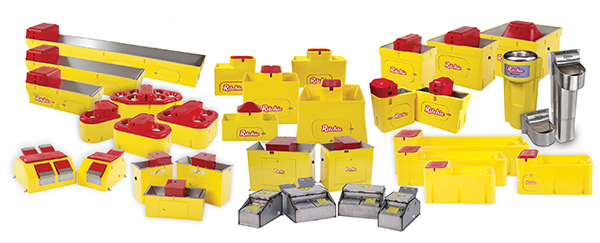 The Reasons Ritchie Waters 'em Right
1. Fresh water trough and valve combinations provide as much water as your animals want, yet limit the amount that sits in the trough when they are not drinking. The water stays fresh and clean and your animals happier and healthier. Ritchie's high flow valves are available in two different sizes, depending on the size of the fountain's trough. Valves are also available in different flow capacities.
2. The best warranty! Ritchie believes in it's products! Just look at the warranty! Ritchie provides the best in livestock waterers and fountains and offers a superior 10 year limited warranty program on all poly products: 5 years full, followed by 5 years prorated. Steel products carry a 10 year, 100% warranty on stainless troughs against manufacturing defects and corrosion; 1 year full and 9 years prorated on casing and cover. None of the competition (concrete, poly or steel) offers a warranty that protects you this well.
3. Totally sealed polyethylene units. Our heavy-duty, impact resistant, polyethylene fountains are totally sealed so moisture can't get to the insulation. The poly is thicker than the competition. In addition, the heavy wall, roto-molded one piece construction employs UV inhibitors for extended life.
4. The best! 304 Stainless Steel! There are cheaper grades of stainless steel out there, but you won't find those grades in Ritchie fountains. Steel troughs are made of 304 stainless, the ultimate in durability and corrosion resistance.
5. Grade A dairy recommendations. The whole Ritchie product line meets Grade A dairy recommendations for livestock waterers.
6. Smart design eliminates maintenance headaches. The patented water seal design eliminates the need for gaskets that can freeze, crack or tear. Exclusive to Ritchie, this superior sealing technology keeps cold air away from the valve, the heart and soul of any fountain. By protecting your high capacity valves, Ritchie is helping you protect your investment.
7. Not heavy, heavy duty Troughs that don't pit, are easy to clean, economical to heat and keep the water clean. Two people can install a Ritchie fountain without the heavy equipment needed to unload and install a concrete unit. And Ritchie fountains use 75% less energy than concrete. Less energy=more profit!
8. Long life lowers your cost of investment! Many livestock producers only buy a Ritchie fountain once every 30 years or so, but that's because their original Ritchie fountain has served them faithfully for all 30 years! Pride in workmanship is still one of the hallmarks of Ritchie who make it easy on you by building fountains you can rely on, day in and day out. Once you find the right fountain for your operation, you'll understand why Ritchie products inspire the kind of loyalty that lasts for years.
9. Designed with animal safety in mind. All of Ritchie's stainless steel troughs have hemmed edges to make them smooth and blunt. And the heavy-duty poly fountains have smooth, curved surfaces.
10. Energy saving designs. Designed with efficient energy use in mind, Ritchie fountains keep from freezing without much cost.