Industrial Pump Solutions
If you are looking for reliable pump operation, Grundfos is the perfect match for all your industrial applications. Our wide range of quality products provide solutions for:
Heating and boiler feeds
Cooling and refrigeration
Process water
Pressure boosting
Water supply and treatment
Our portfolio offers solutions designed to accommodate the numerous challenges encountered in industrial applications. High pressure, high temperature, acidic liquids and countless working hours have all been carefully contemplated in the development of Grundfos' industrial pumps and what they offer you - or your customer - is peace of mind in the form of safe, reliable operation and long service life.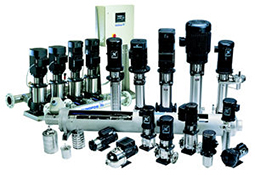 The Grundfos CR pump range can be applied in almost any industrial solution. There are eleven flow sizes, capable of producing high pressure, and a variety of shaft seals, rubber materials and supply voltages. The CR pump range is available in four different materials: cast iron, two grades of stainless steel, and all-titanium.
Pump parts which are typically vulnerable to difficult liquids or particularly demanding operating conditions can be optimized for their purpose and designed for specific requirements.
CR pumps provide a complete range of pump solutions so that all applications, industrial and domestic, can benefit from the Grundfos touch. The applications that can be covered include the following:
Process water systems
Washing and cleaning systems
Seawater systems
Pumping of acids and alkalis
Reverse osmosis systems
Ultra-filtration systems